Samuel Goldman
Main Content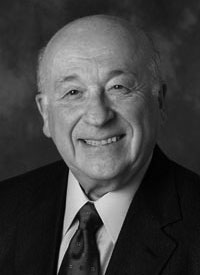 Goldman is a native of Winnipeg, Canada. He earned his bachelor's degree in English and sociology at the University of Manitoba, and then moved to the United States in the mid-1950s to attend the University of Chicago. He earned both his master's degree and doctoral degree in social sciences with a major in education from the University of Chicago.
He became an American citizen in January 1978.
In 1980, Goldman left Ohio University to become dean of the former College of Human Resources at SIU Carbondale. He subsequently joined former President Albert Somit's staff, focusing on regional research and service. Goldman then served as a professor in the Department of Educational Administration and Higher Education in the College of Education and Human Services.
In addition to his research, administrative and classroom work, Goldman served on the Faculty Senate's Judicial Review Board. Goldman was a member of the committee that drafted SIUC's strategic plan, Southern at 150: Building Excellence Through Commitment.
Goldman retired in 2003 and remains very active in the southern Illinois community. He has worked separately with Hospice of Southern Illinois and with Southern Illinois Regional Social Services in both fund raising and marketing.
Upon completion of his three-year term as Chair of the Carbondale Human Relations Commission (2003-2006), he was appointed to the Carbondale Convention and Tourism Bureau and currently serves as Board Chairman. He is a certified clergy volunteer at the Illinois Youth Center in Murphysboro, Memorial Hospital of Carbondale, the Veterans Affairs Medical Center in Marion, St. Joseph's Hospital in Murphysboro and Herrin Hospital.
He has won numerous honors for his contributions in education and in community service, including: Kentucky Colonel award from the governor of Kentucky for service to public education in that state; Honorary Tar Heel, from the governor of North Carolina in recognition of his service to public education in that state; special citation from the Ohio Legislature for "an extensive record of community services especially in the areas of community health and public education"; 2000 Citizen of the Year from the Southern Illinois District of the National Association of Social Workers; and the 2001 Essence Award from the Center for Comprehensive Services in Carbondale.
He has two grown sons, Joseph, who is Assistant Director of Golf Operations at a resort in Hawaii, and Peter, who is a sculptor and attends Northeastern Illinois University in Chicago.