Robert G. Layer
Main Content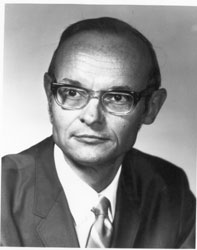 A Detroit native, Layer came to SIU in 1955 as associate professor and acting chairman of the economics department. He became department chair a year later, a job he held until 1967 when he accepted a year-long visiting professorship in Bangkok, Thailand.
He subsequently served as president of the emerging SIU system, overseeing both the Carbondale campus and the fledgling campus in Edwardsville.
On his return, he took the job as chancellor of Carbondale's campus.
Before coming to SIUC, he taught at West Virginia's Fairmont State University and Texas A&M. A Fulbright professor in Italy during the 1960-61 academic year, he was an expert on economic development and banking.
He earned his undergraduate degree at Ohio Wesleyan University and went on to complete his master's and doctoral degrees from Harvard.