Hiram H. Lesar
Main Content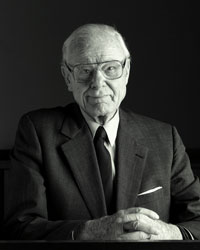 Lesar helped launch the University's law school in 1972 and served as its dean and a professor. He twice stepped in to temporarily lead SIUC.
The first time, he did a nine-month stint between the administrations of Derge and Brandt, with the idea he would reassume his leadership role as law school dean once a permanent replacement was hired.
During that period, he was credited with smoothing out controversy and ill will in the wake of 104 faculty firings, spurred by "financial exigency."
The second time, then-67-year-old Lesar — who faced mandatory retirement in 1980 — continued to oversee the law school and doubled as temporary chancellor while SIUC looked for a permanent replacement for Brandt, who resigned.
Personable and well respected, Lesar grew up in tiny Thebes. He earned law degrees at the University of Illinois and Yale Law School. Before returning to this region, he taught law at the University of Kansas, worked as an attorney with the Board of Legal Examiners in Washington, D.C., joined the law school faculty at the University of Missouri and later served as dean of Washington University for 12 years.
The SIU Board of Trustees named him a Distinguished Service Professor, making him the first faculty member to wear this honorary mantle.
He retired from the University in 1980.