Delyte W. Morris
Main Content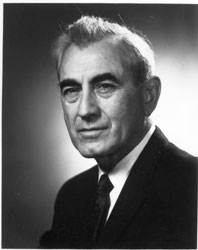 The Teachers College Board elected Morris as the University's leader in 1948, just a few months before state lawmakers created a seven-member independent governing board to oversee SIU.
In his 22 years at SIU, Morris built upon the rich, early history of the University, which he recognized was situated in the most disadvantaged, rural region of Illinois.

His foresight and leadership catapulted SIU into the ranks of major American universities.
Among Morris's beliefs:
• Higher education is the surest way to secure a prosperous, meaningful future for our citizens.
• Higher education should be available to all who seek it regardless of race, nationality, gender, economic circumstance or physical limitations.
• While undergraduate education is the central mission of SIU, the presence of graduate and professional programs is essential to the full potential of SIU's contribution to Illinois and the nation.
• The University's mission should dovetail with the state's economic and social resources..
• Entrepreneurial spirit — that willingness to be innovative, seize opportunities and reward creativity —is a key characteristic of exceptional universities.

Unprecedented growth — from a burgeoning student body that included thousands of GIs returning from World War II, several new buildings and academic programs in Carbondale and the creation of a new campus in Edwardsville — were among the hallmarks of his storied career here.
He retired from the University in 1980.