Henry W Shryock
Main Content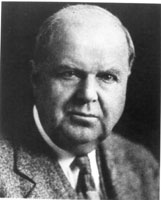 Shryock left the principalship of Olney High School to join the University's English faculty in 1894. He worked his way up the career ladder to become chair of his department and later registrar and vice president.
His 1913 inauguration to Southern's top post coincided with the dedication of the newly constructed women's residence facility, Anthony Hall. Named for women's rights activist Susan B. Anthony, the building today houses Southern's top administrators.
During Shryock's term, the state covered construction of a campus power plant and a beautiful $135,000 auditorium, which bears Shryock's name and remains a cultural touchstone for generations of collegians and community members.
Opened in 1918, Shryock Auditorium first brought former president William Howard Taft to campus to discuss events that were leading the United States into World War I.
Additional buildings also sprang up, occupying most of the original 20-acre campus.
Shryock encouraged community outreach activities and created a Bureau of Rural School Work to enable the University to reach out and help improve the region's many rural and village schools.
On April 13, 1935, Southern's students gathered for their usual morning assembly and learned that just moments earlier, 72-year-old Shryock had suffered a fatal heart attack, bringing his 41 years of service to Southern — 19 on the faculty and 22 as president — to a close.