Albert Somit
Main Content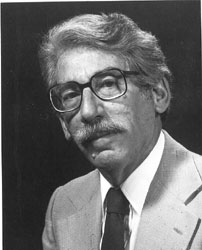 SIUC lured 60-year-old Somit away from the State University of New York at Buffalo — where he'd logged 35 years as a teacher, the last 10 of which he spent as executive vice president — to become the University's 14th chief executive on Aug. 15, 1980.
A Chicago native who grew up in Council Bluffs, Iowa, Somit was often called the father of biopolitics, a field of political science that focused on biological aspects of political behavior.
During his time as the University's top executive, he took a bold step and merged the women's and men's athletic department into one and was credited with positioning the University to handle major enrollment and fiscal challenges.
When he stepped down in 1987, the SIU Board of Trustees named him a Distinguished Service Professor, making him only the second teacher (Lesar being the first) at SIUC to be so honored. Somit subsequently returned to the classroom to teach and conduct research in political science.