Walter V. Wendler
Main Content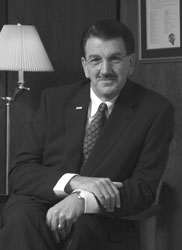 Wendler was appointed to the position of Chancellor of Southern Illinois University Carbondale July 1, 2001. Immediately prior to the appointment, he served as Vice Chancellor for Planning and System Integration of The Texas A&M University.
He held the inaugural William M Peña Professorship of Information Management in Texas A&M's College of Architecture. Professor Wendler was the Executive Assistant to the President of Texas A&M University beginning in September 1997. He served as Dean of the College of Architecture, initially appointed in 1992, and re-appointed in September 1996.
Professor Wendler was the head of the Department of Architecture from 1989 to 1992, and Executive Associate Dean in the College of Architecture at Texas A&M University from 1988 to 1989. His present research interests include pedagogy of the design studio and appropriate teaching and learning strategies for education in this setting.
Before coming to Texas A&M University, he was an assistant in the College of Architecture at Louisiana State University, Baton Rouge. During his time there, he conducted research and service work related to energy use and its effect on design.
He is an excellent teacher who has been recognized by the Association of Former Students of Texas A&M University with a Distinguished Teaching Award. He received his Ph.D. in Curriculum and Instruction from the University of Texas; the professional Master of Architecture from the University of California, Berkeley; the Bachelor Environmental Design from Texas A&M University; and the Associate in Applied Science from the State University of New York at Farmingdale. He is a member of a number of societies, a registered architect and holds the National Council of Architectural Registration Board's certificate.